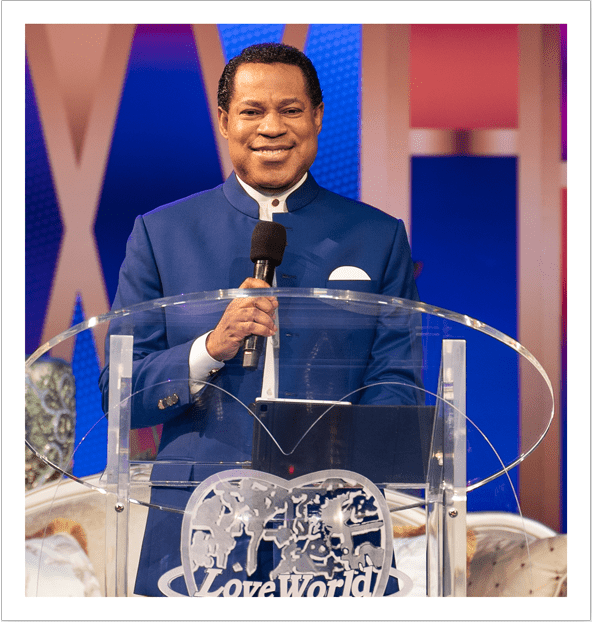 Rev. Dr. Chris Oyakhilome (D.Sc., D.D.), is the President of LoveWorld Inc. and of Christ Embassy. Being a Man sent from God and a unique minister of the gospel of Jesus Christ, his Spirit-filled and anointed leadership continues to propel a dynamic, multifaceted and global ministry.
As a pastor, teacher, healing minister, television host and best-selling author, Pastor Chris daily exudes an insatiable passion to reach the peoples of the world with God's manifested presence; a divine commission he has diligently focused on fulfilling for more than 30 years. 
Our Vision, Mission & Purpose
Our vision is to take God's divine presence to the people and nations of the earth and to demonstrate the character of the Spirit.
Our mission is to raise generations of men and women who will come into their inheritance to fulfill God's dream.
Our Purpose is to bring men and women into their inheritance in Christ.
LoveWorld Incorporated, (a.k.a Christ Embassy) is a global ministry with a vision of taking God's divine presence to the nations of the world and to demonstrate the character of the Holy Spirit. This is achieved through every available means, as the Ministry is driven by a passion to see men and women all over the world, come to the knowledge of the divine life made available in Christ Jesus.

Through the years, various arms of the Ministry have been birthed to effectively proclaim the gospel of Jesus Christ. The Ministry nurtures a vibrant TV Ministry, Internet Ministry, the Healing School, Rhapsody of Realities, and an Inner-city mission; where children without hope of a future are fed, housed, clothed, educated and given a chance to live out their dreams. The Ministry also hosts various crusades in the largest arenas in various countries where millions have been brought into the kingdom of God, and mighty miraculous works have been demonstrated. The venues of such meetings are constantly filled to capacity.

This global mission has led to the establishment of an ever-widening network of hundreds of churches and fellowships worldwide in all continents, affecting millions of people with a unique and timely revelation of the new creation in Christ Jesus. The Ministry will stop at nothing in ensuring that the gospel of the Lord Jesus Christ is preached in all the nations of the world as is expected by the Lord.
This is the statement of Bible doctrine as believed and taught by the Believers' LoveWorld Inc. aka Christ Embassy. This statement of faith has its source in the Bible and is in total agreement with the foundational principles of the doctrines of Christ. We believe that the Bible contains the inspired and infallible Word of God. (2 Timothy 3:16, 2 Peter 1: 20-21)
We believe that there is only one God eternally existent in three persons; God the Father, God the Son and God the Holy Ghost. (Ephesians 4:5-6, Gen. 1:26, Matthew 3:16-17)
We believe in the deity of Christ. (John 1: 1-4; John 10:30; Hebrews 1:1-5)
a. He was born of a virgin (Matthew 1:18-25; Luke 1:30-35)
b. He was conceived of the Holy Ghost (Matthew 1:18-25, Luke 1:30-35)
c. He died (John 19:30-35)
d. He rose again from the dead bodily (John 20:25-29, Luke 24:36-40)
e. He ascended into heaven bodily (1 Thessalonians 4:16-17; Matthew 29-30)
We believe in the rapture of the church and the Second coming of Christ. (1 Thessalonians 4:16-17; Matthew 29-30)
We believe that the only means of being cleansed from sin is repentance and faith in the precious blood of Jesus (Acts 3:19, Luke 24:47; Ephesians 1:7)
We believe regeneration by the power of the Holy Spirit through the Word of God is essential for personal salvation (Titus 2:5, John 3:3-5, Ephesians 5:25-27)
We believe that the redemptive work of Christ on the cross provides divine healing for the body, salvation for the soul of everyone that believes. (1 Peter 2: 24; Acts 3: 16, Acts 9: 32 -35)
We believe that when an individual receives the Holy Ghost, he receives divine enablement for Christian service and witness. (Acts 1: 8; 2:4; 3:1 -26; 4:5 – 12)
We believe in the sanctifying power of the Holy Ghost. (Romans 15: 16; 1 Corinthians 6:11)
We believe in the final resurrection of both the saved and the lost; the former to eternal life and the latter to eternal judgement. (Revelations 20: 11 -15; 1 Corinthians 15: 12 – 23)
Service Times
Sundays at 8am and 10am CST
Wednesdays at 7pm CST
Where to find us
8623 Hemlock Hill Dr
Houston TX 77083